Veranstaltungen
IBG M44 Tournament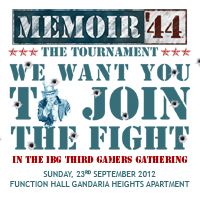 This is Indoboardgames' first Memoir'44 Tournament that will take place during IBG 3rd Gamers Gathering. The tournament will proceed as follows:
*12 Players, Single Elimination.
*The game will be played using original components of Memoir'44 game (base and its expansions) and the provided dice towers.
*A match consists of 2 games where each player will play each sides (axis & allies) once. A player with most medals accumulated is the match winner. In case of a tie, player with the most kill (figure count) is the winner.
Veranstaltungsort:
Function Hall Gandaria Heights Apartment
Jl Arteri Pondok Indah, Jakarta Selatan
Jakarta 12240
Indonesia
Zoom
Kontaktperson
Kontakt: Eric Atmaja
E-Mail:
---
---